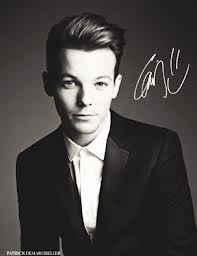 1. Louis Tomlinson was born on Christmas Eve in 1992. He's a Capricorn. Typical Capricorns are 'slow, steady and win the race.'
3. Louis is the oldest member of One Direction. He's 13 months older than second eldest Zayn Malik.
4. Louis was brought up in Doncaster, South Yorkshire. Other famous people who hail from the town include Jeremy Clarkson, Kevin Keegan and Brian Blessed.
5. Weirdly, Louis is a big fan of girls who eat carrots! Maybe it's because they can see in the dark?!
6. If Louis had a superpower, he would fly.
7. Louis's favourite band is The Fray.
8. Louis's celebrity crush is Natalie Portman and his man crush is Robbie Williams.
9. Louis has approximately 1minute and 30seconds of solos on 'Up All Night' – the second least behind Niall.
10. Louis auditioned on The X Factor with a version of Plain White T's 'Hey There Delilah'. He got a clean sweep of yes's from the judges.
11. Louis's Twitter address is @Louis_Tomlinson. He has 12.4 million followers (as of 24th August 2013).
12. When Louis was a DJ for an afternoon at The Hits Radio in February 2012 his #1DHQ playlist was Rihanna 'Only Girl (In The World)', Gym Class Heroes 'Stereo Hearts', Flo Rida 'Good Feeling', Jessie J 'Domino', Lady Gaga 'Edge Of Glory', Robbie Williams 'Angels', LMFAO 'Party Rock Anthem', Adele 'Rolling In The Deep', One Direction 'Moments', Pitbull ft. Ne-Yo 'Give Me Everything Tonight', Jason Derulo 'Don't Wanna Go Home', Coldplay 'Paradise', Olly Murs 'Dance With Me Tonight', Ed Sheeran 'Drunk', JLS 'Eyes Wide Shut' and One Direction 'One Thing'.
13. Louis was born to mother Johannah Poulston and father Troy Austin.
14. Troy and Johannah split up when Louis was young. He eventually took on his stepfather Mark Tomlinson's surname.
15. Louis has five younger half-sisters: one on his father's side (Georgia), and four on his mother's side (Charlotte, Félicité, and twins Daisy and Phoebe).
16. When he was just 11 years old, Louis had a role as an extra on ITV drama Fat Friends. His newborn sisters Daisy and Phoebe starred as babies on the show.
17. Spurred on by his appearance on Fat Friends, Louis attended acting school in his spare time and eventually had small parts in 2006 ITV drama If I Had You! and the BBC's Waterloo Road.
18. When he first auditioned for The X Factor, Louis was a sixth form student at Hall Cross School in Doncaster.
19. Louis also attended The Hayfield School in Doncaster but dropped out when he failed his first year of A-levels.
20. Louis had a number of part-time jobs before The X Factor including working at a local cinema and as a hospitality waiter at Doncaster Rovers Football Club.
21. As a student, Louis played the lead role of Danny Zuko in a high school production of Grease. He says playing the part gave him the confidence to audition for The X Factor.
22. When he was younger Louis wanted to work on a farm.
23. Louis's biggest role model is Robbie Williams. He told The Hits Radio: "I've got a massive musical icon and that's Robbie Williams. We actually got to sing with him on The X Factor and it was absolutely amazing."
24. Louis is currently dating Manchester University student Eleanor Calder.
25. Just like Niall and Harry, Louis has passed his driving test.
26. Louis would love to copy Michael Jackson and have a pet monkey. He said: "I'd like to adopt a chimpanzee and build an eternal friendship, that would be amazing."
27. Louis's favourite song of all time is 'Look After You' by The Fray.
28. Louis's favourite colour is dark red.
29. Louis is a big fan of Las Vegas rockers The Killers. After seeing them perform at V Festival, he tweeted: "Watching Mr Brightside live last night was unbelievable. LOVED The Killers!!"
30. Louis suffers from a ringing noise in his right ear. Although yet to be officially diagnosed it's thought it could be tinnitus which can lead to deafness if untreated. Best get yourself to the docs Louis!!
31. According to his bandmates, Louis has the smelliest feet in One Direction! Niall told The Sun: "Louis wears plimsolls with no socks so his feet get very sweaty and the sweat is captured. If we are on a bus or something and he takes them off we all pretty much start gagging."
32. Louis's middle name is William.
33. Louis says he's a "one-woman man" who would never cheat on his girlfriend Eleanor.
34. Louis was given a telling off by police when filming the 'What Makes You Beautiful' video Los Angeles in July 2011 for his erratic driving. He explained to The Sun: "I got pulled over by the US police. They thought I was all over the place. The officer goes: 'Listen, man, I can shut this thing down if you carry on driving like this. You're driving like a maniac.' And I was like: 'Man, put the gun down. I don't want no trouble.'"
35. Louis says that he and his 1D bandmates are like brothers. Admitting that they occasionally bicker, Louis told Digital Spy: "Because we're around each other so often it's like arguing with your siblings. You fall out with them, go away and have a bit of a paddy, then come back and get over it."
36. Just like Zayn and Harry, Louis supports Manchester United Football Club.
37. Louis's favourite track on 'Up All Night' is the Ed Sheeran penned 'Moments'. The track appears on the deluxe version of the record.
38. If Louis could give anyone a tip when auditioning for The X Factor it would be "just be yourself and really try and get your personality through in your song choice and interview."
39. When One Direction's tour bus crashed in Birmingham in January 2012, Louis suffered whiplash in the incident.
40. On 12th August 2012, Louis and Eleanor watched Tom Daley win his Olympics bronze medal at The Aquatic Centre in East London.
41. Louis sold his Porsche Boxster on eBay this summer for £30,000.
42. When Zayn's ex-girlfriend Rebecca Ferguson took to Twitter to complain about being overworked by her management, Louis had very little sympathy! He tweeted: "@RebeccaFMusic Success is impossible with out proper hard work."
43. In May 2012, Louis was reportedly woken up by a naked man trying to enter his hotel room in Stockholm at 5am! The man was apparently drunk and looking for the toilet. Scary!!
44. Louis says his girlfriend Eleanor helps to keep him grounded. Speaking about spending time with her in Manchester, Louis told The Sun:  "Eleanor's really down to earth. She makes me fish finger sandwiches and it's great to do something normal after the madness of the tour. All my mates are at university and it's a life I haven't had a chance to enjoy so it's great to turn up and sample a bit of it."
45. Louis got dressed up as a carrot at an X Factor Live gig in Nottingham in early 2011! Amazeballs!
46. Louis loves to party! He told TOTP Magazine: "To be honest, I'm sure the majority of 20-year-olds go out and party. I'm not going to feel oppressed."
47. For his girlfriend Eleanor's 20th birthday, Louis bought her a huge personalised cake! Before it was scoffed, it depicted himself and Eleanor sat on a bench in front of a Disney-like castle.
48. Louis also bought Eleanor a box of personalised Yorkshire teabags and a mug with her name emblazoned on it. Ah, bless!
49. Louis is a giver and not a taker. In fact, there's nothing he enjoys more than giving his friends and family presents. His mum Johannah told Sugarscape: "He's not a materialistic person himself, but he likes to give people things. He spoils me and the girls and he's happiest doing that."
50.  If Louis had a son he'd call him Leo or Lucas.
51. Louis likes snuggling up in bed with… HARRY! He said earlier this year: "A few weeks ago I made a cup of tea, then went and got in bed with Harry and we watched a show called something like The Top 50 Boybands Of All Time." Nice!
52. Louis's least favourite food is baked beans.
53. Louis would like it if The Wanted supported One Direction on tour! Speaking about the two bands' fallout, Louis said:  "We are hoping that they'll still get on with us, because, you know, there is potentially a spot on our arena tour for them to support us..." Cheeky!
54. Louis would hate it if the paparazzi took a photo of his manhood. "I think it's a bit childish and immature to do that sort of thing, to be honest," Louis states.
55. Louis's favourite country in France. This summer he had a romantic break in Paris with Eleanor.
56. Louis is an avid fan of surfing. In fact, he loves the beach so much he says he'd like to get married on one.
57. It takes over 30 minutes for Louis to get his hair ready in the morning.
58. Louis would never get his nipples pierced. He said: "It would hurt too much. I'm not brave enough!"
59. Louis says that the worst thing about living with Harry is "the constant stream of women he gets through the door."
60. Louis admits he's a really bad cook. Despite this he appeared alongside Harry cooking on ITV's This Morning in September 2011.
61. Louis is an animal thief! He stole a pig's trotter from a house the boys were staying at but had to give it back when the owners of the property called 1D's management. He said: "I borrowed it, and then got caught for borrowing it, yeah... We had to give it back because they rang up management and cried about it... They're lucky we didn't nick a full pig."
62. One of Louis's favourite mottos is "Live lifer for the moment because everything else is uncertain."
63. Louis once played a brilliant prank on Harry where he changed his name to Frankie Sandford in Harry's phone. Louis then phoned repeatedly so by the time Harry checked his phone he had 23 missed calls from Frankie! LOL!  
64. The two traits Louis looks for in a girl are confidence and a good sense of humour.
65. In 2011, Louis's mum Johannah and stepdad Mark split up. Speaking about his mum, Louis said: "It must be so much harder for her because I'm living this fantastic life and being so busy every day whereas she's still in the old life I was in but without me… it must be really difficult for her not to get upset."
66. Louis's pet hate is when people chew their food too loudly.
67. Louis has size ten feet.
68. Louis calls Harry 'pumpkin' – an affectionate term in the North of England.
69. Louis absolutely loves being surrounded by screaming fans. He told Teen Now: "Its incredible - it's great to have people show their support for you when you're doing something that you love, and the fact that they are girls makes it that much better!"
70. A man who works in the music industry once tried to have a snog with Louis! "It was a press guy.... he just started going in for a kiss!," said Louis.
71. Louis loves marmite and has big dollops of it on his toast.
72. Louis would never go solo. Explaining why, he said: "The whole reason I love doing this (being in a band) so much is the buzz you get off each other. I don't think I could stand as a solo artist, that's not me."
73.  Despite being the oldest member of One Direction, Louis is proud to be immature. In fact, he says he wants to be immature forever.
74. Louis says that if he was a One Direction fan for the day, the band member he'd fancy most is Harry.
75. Louis admits that he's a messy person. In fact, he hasn't met anyone who's messier than him!
76. Louis is a pretty decent on the piano and he loves to play 'Mr Brightside' by The Killers.
77. Louis likes the word "boobs."
78. Louis says he'll "never get used to" the adoration he receives from fans. He told Radio Live in New Zealand: "At the end of the day we're doing something that we really love and to be appreciated for that is really nice."
79. Louis's favourite TV shows are Misfits and One Tree Hill.
80. Louis follows 2,881 people on Twitter (as of 7th September 2012).
81. Louis's trademark item of clothing is striped shirts.
82. If Louis wasn't a multi-million selling pop megastar, he reckons he'd be training to be a drama teacher. IMAGINE IF LOUIS WAS YOUR TEACHER?!
83. The strangest present Louis has ever received from a fan is a sanitary towel. As if that wasn't weird enough, it had the girl's twitter name written on it.
84. If Louis could visit any planet it would be… Narnia. Erm, it's a fictional place Louis!!
85. Louis reckons he's got the biggest biceps in One Direction. Show us your guns, Louis!
86. According to Harry, Louis is "handsome and rugged."
87. Louis hates rumours, especially when they involve Harry and himself. In a Tumblr interview he explained: "Me and Harry are best friends, people look into our every move. It is actually affecting the way me and Harry are in public: We want to joke around but there seems to be a different rumour every time we do anything." You tell the rumourmongers, Louis!
88. Louis once had a dream that One Direction recruited a sixth member who was constantly fighting with him and the rest of the 1D lads refused to help.
89. Louis is prone to sleepwalking and once tried to get into Niall's bed!
90. Since professing his love for carrots, Louis has received hundreds of orange vegetables as gifts from fans. He now says he loves Lamborghinis!
91. If a movie was made about Louis's life, he'd like Leonardo DiCaprio to play him.
92. The first time Louis ever spoke to Harry was in the toilet at The X Factor auditions in Manchester.
93. Louis is a big fan of silly string! He's sprayed it onstage at gigs, press conferences and even at a security guard who refused to let him speak to fans.
94. When he was 14, Louis played lead guitar in a band called The Rogue with his schoolmates. You can check out their Myspace profile from 2006 here 
95. When One Direction formed, Louis's big ambition was to go "straight to the top." Proof that dreams come true!
96. In August 2012, Tulisa prank called Louis during a live webchat. When Louis answered she spoke to him in a Donald Duck voice in front of thousands of viewers. The N-Dubz star tweeted afterwards: "soz babe we had 2 get ya! Thanks 4 being a laugh n entertaining us!"
97. Louis was fined £80 for speeding on the way to V Festival this summer. It's reported that he was going 48mph in a 40mph zone. He'll also get three points on his licence. Ouch!
98. Despite having smelly feet, Louis is a big fan of shoes! His favourite types are chinos and Toms.
99. Another Louis's mottos is "live fast, have fun & be a bit mischievous."
100. Louis wants to have kids when he's older and is desperate for a son. However, he admits he's not quite ready for them yet "The thought of having a child at this is pretty scary."
101. If Louis was Simon Cowell for the day, he says he'd go on a date with Susan Boyle!