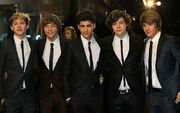 THERE WERE GIRLS CRYING, CAMERAS FLASHING, MADNESS REALLY.
One Direction stepped out on the orange carpet at theKids Choice Awards 2012 looking as beautiful as ever, we're sure you'll agree.
Their perfectly coordinated outfits went down an absolute treat with the crowd, as girls were seen crying just at the sight of them.
We can understand why.
We're loving the fact that Harry is donning his bow-tie, but there is a complete lack of stripes on Louis' part, although the braces do make up for it.
Daddy Directioner Liam opted for a smart look (with that fancy looking jacket) with a casual twist, you see?
(Obviously, when it comes to fashion, we know exactly what we're talking about)
Zayn and Niall possibly look the most casual of the group, but who really cares.
They could all come dressed in bin bags and we'd still think they looked amazing. (Or amazayn, whichever you prefer.)
What do you think of One Direction's outfits?
Are you loving the choice of clothing or are the lads getting a tad too predictable with what they wear to events?
Again, just so we're clear, we love them in ANYTHING.