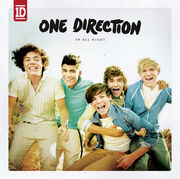 AND WE CONTEMPLATE MOVING THERE TO DO THE SAME.
As if Harry Styles in his undies wasn't enough for us yesterday, we have just finished gawking over an uber cute photo of Harry holding a flippin' koala.
Pic: Harry Styles' Twitter
Harry, we've told you once, and we'll tell you again; there is an elf with giant feel standing behind you. We just think you should be made aware of that.
And it wasn't just the curly one who got to get up close and personal with a koala, because Zayn decided he quite fancied giving one a little kiss on the head.
Pic: Lone Pine Koala San.'s Twitter
No judging, he can do whatever he likes with a koala (within reason). And although Harry went for a more standard let's just hold the koala stance, Zayn obviously just has a lot of love to share with his new furry friend.
Liam and Niall got in on the action, having their photo taken with the Koala, (She's called Kat, just in case you were wondering) and Harry decided to join in too.
Pic: Lone Pine Koala San.'s Twitter
So basically, it was just about the cutest One Direction animal encounter to date. It is almost better than the lads holding those puppies in America.
ALMOST.
Oh and before you all start going hysterical, Louis was there as well and here's a photo of him with the luckiest koala in the world.
Pic: Twitter
We're 99% sure it was just as beautiful as some of those Larry moments we've shared with you in the past.